Situated in the center of town, Hua Hin Railway Station is a popular tourist destination
Hua Hin Railway Station is renown throughout Thailand for its charm and beauty. Built in the 1920s during the reign of King Rama VI this was one of the first train stations in Thailand.
The beautiful wooden structure was actually a royal pavilion in Sanamchan Palace, Nakhon Pathom Province.
Hua Hin probably has one of the most photographed railway stations in the world. Many visitors come not to catch a train but to admire the graceful architecture and craftsmanship of a bygone era and take a selfie or two.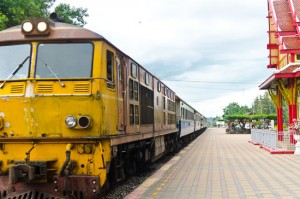 This iconic landmark is just a short walk from the center of town and is located at the western end of Damnoen Kasem road.
Across the tracks from the station, alongside the Royal Hua Hin golf course, you'll see one of the original steam trains that used to run these tracks.
Although the train station is small it remains well preserved and is still in service today.
Just outside the entrance to the station you'll be greeted by two restored train carriages that are actually a library.
The Centara Grand resort located on the beach at the other end of Damnoen Kasem road used to be the original Station hotel built at the same time.
Train Timetable
Being an operational train station you can still buy yourself a ticket and travel the country. This particular line runs as far north as Bangkok and south to the border with Malaysia where you can continue your travels as far as Singapore.
For the latest schedule check out the train timetable before you plan your trip.
Continue to the next page to see some photographs of Hua Hin railway station..