Netflix Thailand Opens its Doors for Free Streaming
It's been a long time coming but suddenly Netflix has opened its doors to another 130 counties overnight and the good news for all TV aficionados is that Netflix Thailand is available as of January 2016. Now you can enjoy your favorite television shows wherever you go.
So long as you have a decent broadband internet connection you can stream Netflix to smart TVs, tablets, phones, laptops and various other connected devices such as the diminutive Apple TV. Just download the Netflix app to your iPhone or iPad and you can stay entertained while on the go.
Gone are the days of having to use virtual private network (VPN) technology to link through Europe or the States to view the latest television shows. Now it's possible to connect directly through high speed connections to view television content from one of the Worlds top streaming services.
Take a Free, no-obligation, Trial of Netflix Today
Signing up for Netflix is easy and takes just a few minutes.
You'll need a Paypal account or credit/debit card to register but the good news is that the first months access is free (you can cancel at any point during that time and not be charged).
You  get full access to Netflix's whole media library during the trial without restrictions.
The trial period is a great opportunity to check out the various content and make sure that your internet connection and hardware are up to the job of steaming media.
Get a FREE Netflix account today
Stream Popular Television Shows direct to your Home in High Definition
Netflix is home to many of the most popular television shows including many of its own exclusive productions such as Marvels Daredevil, Jessica Jones, 'Orange is the New Black' and 'House of Cards'.
New series are added each season and episodes added regularly as they are aired.
You can set up accounts for each family member, including kid friendly viewing, and the software will give you recommendations based upon your viewing habits.
Get one month free access to Netflix Thailand
Subscription Plans to Suit Your Lifestyle at a Cost you Can Afford
Netflix prices remain comparable to the original USA cost with plans starting from 280 THB for standard definition playback on a single device.
If you want to stream TV shows to more than one device at the same time or to enjoy high definition playback then you should consider one of the slightly more expensive packages.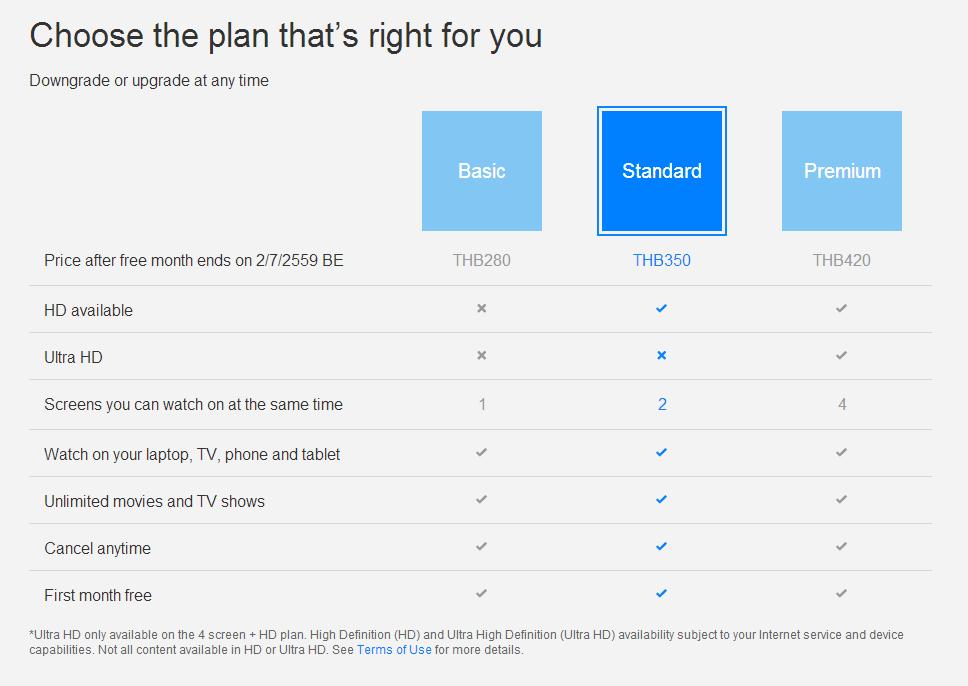 Watch Netflix on all of your Devices
One of the best things about streaming is that you're able to watch your content across multiple types of devices. Both Android and Apple have apps available for viewing Netflix on their phones and tablets. Similarly Microsoft also serves a Netflix app for use on Windows computers.
There are several options available to you if you want to watch Netflix on a television. If you have a smart TV then there's likely to be an app already installed for Netflix.
For regular televisions you can always connect a laptop, computer or even a smartphone or tablet with the correct conversion cable.
Failing that you can use an Apple TV box or one of the many Android TV boxes that are hitting the market such as the Minix Neo X8H Plus with an air remote.
What's Not to Like with Netflix
Overall we're impressed with Netflix as a streaming service but there are a couple of things that may let some people down.
Firstly, you're not going to get all of the latest TV shows around. Many are licensed exclusively to other networks, like 'Game of Thrones', meaning that they're not going to end up on Netflix for quite some time, if ever.
As concerns the new Netflix for Thailand you'll notice a lack of local titles.
Unfortunately there is limited Thai-language media available at the moment but this is hoped to change in the future as more content is added. There is no option to display even the website in Thai (apart from using Google Translate) and the same is true of the various Netflix apps.
You'll also notice that it's not possible to display Thai subtitles either which is likely to be more of a disappointment for many people.
Hopefully we'll see improvements in these areas in the not too distant future as the technology progresses.
Get Started with Netflix
If you're an expat or just in Thailand on holiday it's nice to know that you can still have access to favorite shows even when you're away from home. Netflix Thailand is a welcome addition to our viewing library.
Get Started with Netflix Thailand Today