Hua Hin is well known for its miles of beautiful wide sandy beaches, shallow gentle seas and breathtaking sun rises
It's understandable why many locals choose Hua Hin as their holiday destination of choice. Close enough to Bangkok to visit for a day should one wish yet still retaining a relaxed atmosphere.
Hua Hin's beaches overlook the Gulf of Thailand and are easily accessible. The sea tends to be shallow and child friendly for the most part and at low tide the white crystal sand stretches for miles in a wide strip along the coast.
Hua Hins beaches are known as family friendly and charming. Unless you're in the center of town they tend to be quiet and not so crowded.
There are plenty of activities available from walking to pony rides, jet skis and kite surfing. You'll find deck-chairs available for rent along the beach along with plenty of restaurants and massage areas.
Due to the gentle sloping sandy beaches the waves tend to be small and it's normally possible to walk quiet a way from shore. Nonetheless it is advisable to stay close to the beach as the tide can change quickly and you may find yourself struggling to get back in and encroaching on the jet ski zones.
Unlike other seaside destinations in Thailand there are no reefs or dropoffs and the sandy waters can limit visibility. If you're looking to scuba dive then Kao Talu is probably your closest option.
Popular Beaches
These are the most popular beaches in and around Hua Hin.
Hua Hin City Beach
Khao TakiabBeach
Suan Son Beach
Khao Tao Beach
Cha-Am Beach
Hua Hin Beach
Hua Hin's main beach, normally referred to as City Beach is a great place to take in a stroll, or jog if you prefer, all the way from the Hilton hotel down to the temple at Khao Takiab. You'll find plenty of hotels backing onto the beach itself so if you need a break for some refreshment or a meal then just pop into the closest one.
When the tide is out the beach is very wide and accessible but be careful that you don't get caught out as the tide comes in as it can isolate several of the narrower areas.
If you find yourself stuck, or just don't feel like walking all the way back, then just head west and you'll soon hit the main road where you can grab a tuk-tuk or motorcycle taxi back to your hotel.
There is no boardwalk or road along the beach front so you'll need to enter down one of the side roads (Soi's) along Petchkasem road.
Beach Activities
The beaches are normally a hive of activity, especially at weekends when the numbers in Hua Hin tend to swell due to the influx of the Bangkokian masses looking for a break from the smog and noise of the capital.
Many of the hotels have their own beach areas that they look after and provide deck chairs and parasols.
Water Sports
Walk along the main beach a little ways and you'll find plenty to do from kite-surfing and jet skiing to sea kayaking and tubing.
Jogging and Long Walks
Jogging seems to be a popular pastime these days. Due to the heat and the sun it's a good idea to go early in the morning or towards the end of the afternoon when the temperatures are a little cooler.
Watch the Sunrise
If you're an early riser then why not get yourself down to the beach at dawn, around 06:00 am, to catch the beautiful sun rising out of the sea.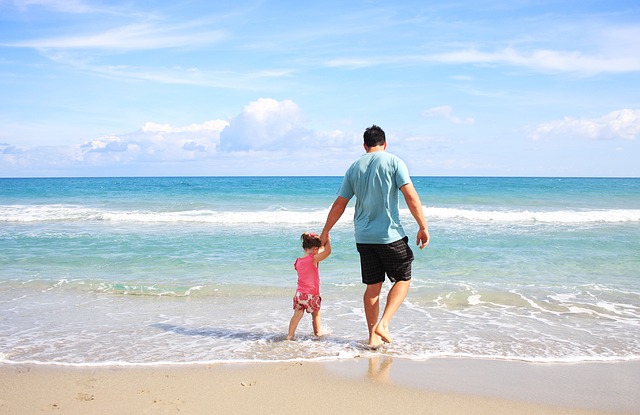 Pony Rides
If you have kids then why not treat them to a pony ride. There are plenty of them on the beach and I'm sure you won't get far before you're approached by at least one.
Sun Bathing
There are several areas where you can get sun chairs of loungers complete with a parasol for hire cheaply. Most are towards the center of town although the majority of hotels on the beach have their own private areas. Failing that you can just lay down a towel wherever you like and enjoy the view.
Massages
If you fancy a little self indulgence while you sunbathe then why not relax and take a massage. You've find several vendors up and down the beach.
Eat & Drink
Past the Hilton hotel to the north you'll soon find the beach blocked for a short stretch in the area called fisherman's pier. If you fancy some fresh sea food then this is a great place to take a rest and enjoy a meal. You can rejoin the beaches a little further up along Naresdamri Road.
Ice cream sellers regularly patrol the beaches with their mobile carts. Just keep an eye out for them.
If you're away from the center of town and feel peckish then why not pop into one of the hotels dotted along the beach to take a well earned rest and have a drink or meal at one of the excellent restaurants.
Watch the Fishermen
You'll often see fishing boats dotting the bay. Most bring their catch in early morning but in the evening you'll see plenty of small boats out to catch squid, their green lights spotted across the horizon.
Even if they don't have a boat you'll see some wading around in the shallows hoping to pick up a flat fish or two.
Vendors
As with most places these days there are bound to be some vendors on the beach trying to push local products such as dresses, shawls, t-shirts and some small knick-knacks at highly expanded prices. If you must have them then haggle, otherwise you'll normally find that you can get the same thing at the local stores or night market a lot cheaper.
Beaches Around Hua Hin

Khao Takiab Beach
Khao Takiab beach South of Chopstick Hill is a very popular beach, especially at the weekends. Just find your way down to Khao Takiab around the Anantasila hotel to get access to the beach area.
You'll find many of the same attractions in this bay including jet skiing, tubing, kayaking and the ever popular horse riding.
A walk down the beach will take you past the Sea Pine golf course and you'll reach Suan Son Beach.
Many weekend beach-goers take a stop at the Cicada market on their way back into town. It's a great place to eat and check out a few of the local artisan works.
Suan Son Beach
A pine tree lined sea front 9 km south of Hua Hin is popular with locals. The area is owned by the army welfare office and is used as a retreat for soldiers and their families but is open to the public.
There is a small fee of 20 baht to take your car in, parking is alongside the beach itself. There is a small restaurant and showers and toilets. There is even the skeleton of the whale housed here that was wash ashore many years ago.
For those interested in golf there is also a driving range on the premises.
If you find the beaches in Hua Hin a little crowded or would just like to explore a little further afield then there are miles of sparkling white sandy waterfront to explore within an hour or so of town.
Beaches South of Hua Hin
Khao Tao Beach
Just a 10 minute drive South and you'll find yourself in Khao Tao the sleepy other half of Hua Hin. With its small fishing village and secluded 1 km beach you are almost guaranteed that you'll get some peace and quiet. The sea drops off a little quicker than at Hua Hin so it is more suited to swimming than paddling.
Dolphin Bay
Drive South 38 km and you'll find Dolphin Bay a palm fringed sandy bay that is free from the hustle and bustle of the nearby tourist areas. With a 6 km beach this is a haven for those looking for a quiet and relaxing break. Maybe you'll even catch sight of one of the rare pink Irrawaddy dolphins, especially if you go on one of the cruises.
Koh Talu Island
If you'd like to getaway to a beautiful desert island then the closest thing is at Koh Talu an hour or so drives South of Hua Hin. There are regular ferry's out to the island where there are a couple of resorts.
There are no roads on the island and amenities are limited as everything is brought over by ferry but it's a great place to go to for a few days to unwind and enjoy the beaches, sea kayaking and trips out on the boats to enjoy the sea-life.
If you want to try your hand at scuba diving then this is the nearest diving area.
Beaches North of Hua Hin
Beaches North of Hua Hin and in the area of Cha-Am are also very beautiful. In fact there are many resorts scattered between the two beach towns each claiming their own little part of paradise.
Cha-Am Beach
Cha-Am is only a 20 minute drive to the North and is a favorite with Thai tourists so not only will you get some great tasting food but the prices are also cheaper than in Hua Hin.
The main beach is lined with trees and next to the road, so it is easily accessible. There are plenty of shops lining the waterfront area where you can pick up a tasty snack or even hire one of the famous pink bicycles or tandems and spend a leisurely hour or so cruising the beachfront and side streets.
Some of the best seafood restaurants are to the north end of the boulevard where you'll be able to choose your own fish, prawns and crabs to eat.
If you don't have a motorbike or car to get there then take a minibus from the town center.
Jellyfish Problems
A word of warning. Beware of the jellyfish during the rainy season. Easily concealed in the surf their sting can be extremely painful and another reason for dressing up when in the water. Check with the locals for more information but if you notice a long trail of jellyfish bodies washed up on the shoreline it's a giveaway.
If you get stung it can be very painful. Vinegar seems to be the best treatment if you are unfortunate to touch the tentacles of one.
What to Wear
Thailand is hot and even on overcast days the suns strength can be deceiving. Always wear good quality high strength sun protection as it's very easy to get burnt. You wouldn't want to spoil your holiday after all.
As a culture Thai's tend to be reserved and conservative and for the most part avoid the sun. They always cover up on the beach and while it may be the acceptable to go topless in Europe it is frowned upon in Thailand.
Pictures of Hua Hin Beach